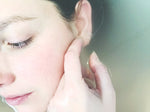 We have made it simple to get started with Myhavtorn organic beauty. Our ambition is to make products that are easy to use and gives you a beautiful glow. With a small amount of products we want you to feel confident and secure of how to use them, everything to have the best conditions for a well balanced skin.

Here you find a quick guide how to take care of your skin in a daily routine.

Get to know your skin.
The skin is our largest organ with many important features. It should function as a protective barrier from external stresses, but is also part of our immune system. The skin is a living organ that breathes and eat, what you put on the skin is absorbed by your body. So be careful to provide yours skin with high quality nutrition. Your skin lives and we feel it. Both heat, cold, pain and touch. It is therefore important to stimulate your skin and give the love and tenderness.

YOUR DAILY SKIN CARE ROUTINE
A good skin care routine begins with a genuine and thorough cleaning. This is one of the most important steps in getting a glowing and healthy skin. In Myhavtorn's oil-based facial cleanser you will find a well-balanced mix of vitamins and nourishing oils. Our cleanser contains organic sesame oil, it acts both cleansing and gives soft and smooth skin. Our facial cleanser has a generous content of the nutritious
sea buckthorn oils, the great cleansing castor oil and essential oils of juniper and bergamot, all with amazing properties for the skin.

Myhavtorn facial cleanser does not work dehydrating but moisturizing and caring for your
skin. The cleaning oil contains some of nature's finest oils that clean at the same time
as they effectively remove your makeup.

STEP 1 - CLEANING
How to use our facial cleanser
1. Rinse face with lukewarm water. Apply a pea-sized click on a damp pad (Myhavtorn organic pads), or directly in the hand. Gently massage the cleanser into the whole face. Be sure to massage for a full minute to increase blood circulation in the skin so the oils can act real deep, and at the same time as you gives your skin the extra care it deserves.

Rinse with lukewarm water or dry off with a damp pad. Repeat until all oil is removed.
3. To get rid of residual cleansing residue and get the right balance in the skin finish with Myhavtorn Essence. Myhavtorn Facial Essence also prepares the skin for the next step where you apply Face Cream
and Facial Oil.

STEP 2 -VITAMINBOOSTA & MOISTURE
When you have given your self a really nice and deep cleaning, your skin ready for hydration. We have chosen to combine our face oil with face cream. These two products are developed to complement
each other and give maximum moisture to your skin. If you prefer a completely oil-based skin care routine, you can replace the face cream towards our Night Balm. Depending on your skin condition, you can adjust the proportions between oil and cream to get the perfect balance for just your skin. Remember that oils are absorbed best when the skin is still moist.

Moisturizing
Application of face cream.
Myhavtorn moisturizing face cream contains a perfect balance between both fruit and seed oil of sea buckthorn, argan oil, avocado oil and safflower oil. The face cream is easy to apply and is quickly absorbed by the skin, it works both during night and day. If you have extra dry skin you can apply an extra amount after a few minutes. When using our facial oil should, the Face Oil should be applied after applying the face cream. This for to provide extra nourishment and help your skin to retain moisture from the cream.

Myhavtorn face cream fits normal to sensitive skin and contains nourishing and soothing oils from linden blossom and bergamot. The beautiful orange color is the result of the high concentration of the
both sea buckthorn oils.

VITAMIN BOOSTING
Application of facial oil
Our facial oil with the three nutrient-intensive oils from sea buckthorn, argan and avocado provide plenty of nutrition to your skin. Sea buckthorn oil moisturizes and has a positive effect on the skin's ability to regenerate. Our facial oil penetrates deeply, moisturizes and protects against aging.
The face oil can be used individually or applied together with your face cream.
Apply a few drops on cheeks, chin, forehead and massage gently in the skin. It is an amazing oil that gives glow and nourishment for dry and tired skin. Our Face Oil may be used both morning and evening. It fits normal to sensitive skin types.