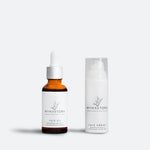 Face cream + Face oil
Did you know that we have developed our face cream and face oil together to get the most out of your skin care. With this duo, you give your skin good conditions to feel good and add both plenty of nourishment and moisture.
A facial oil helps to build resilience and gives the skin the conditions to moisturize on its own and stay supple. The face cream really adds moisture to your skin, has a nourishing and softening effect.
Both products are packed with the amazing sea buckthorn oil, rich in Omega 7, carotenoids and vitamins that give your skin a wonderful glow while it provides your with important nutrition. Omega 7 is a fatty acid that is a component of our skin's fat layer and acts as a powerful antioxidant, has emollient properties and also has a nourishing effect on the skin.

Applying the face oil after you have applied your face cream can help the skin to bind the moisture from the cream which allows you to get an even better effect of your cream. The right face oil not only gives the skin a nice elasticity and nice glow over time, it can also give you a direct glow.
Features

- Lovely nourishing that gives your skin a wonderful glow.
- Absorbs quickly and has a softening effect.
- Adds energy and protects the skin.
Key ingredients
Sea buckthorn oil. Rich in carotenoids, vitamins and essential fatty acids. Quickly absorbed by the skin and gives your skin a wonderful glow.
Argan oil. Rich in Vitamin E, carotenoids and a wide range of important fatty acids. Argan oil works deeply and provides important nourishment to your skin.