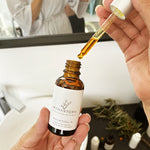 A facial oil helps to build resilience and gives the skin the conditions to moisturize on its own and stay smmoth. Our facial oil is made from the three high-quality oils from sea buckthorn, argan and avocado, which all add plenty of nourishment to the skin. Sea buckthorn oil gives your skin a powerful vitamin boost and stimulates your skin's regenerative ability. It penetrates your skin deeply, moisturizes and softens.
How should I use it?
We think 5 drops works great. Forehead, cheeks, chin and décolleté. Apply the drops on your fingertips and massage into cleansed slightly moist skin. A perfect time is after your shower, or after washing your face or applying your toner. Can be used in the morning and evening, independently or together with our face cream. Applying the facial oil is a perfect opportunity to take a little extra care of your skin, so feel free to take your time and gently massage in the facial oil, it releases muscle tension and today's stress in the skin. The face oil is suitable for normal to sensitive skin.
Why a face oil?
One of the main tasks that facial oil has is to build up and protect the skin's lipid layers, which helps to keep important microbiomes in balance while the skin becomes soft and smooth. The function of facial oil is also to nourish the skin and help the skin retain its own moisture. Applying the face oil after you have applied your face cream can help the skin to bind the moisture from the cream which allows you to get an even better effect of your cream. The right face oil not only gives the skin a nice elasticity and nice glow over time, it can also give you a direct glow.